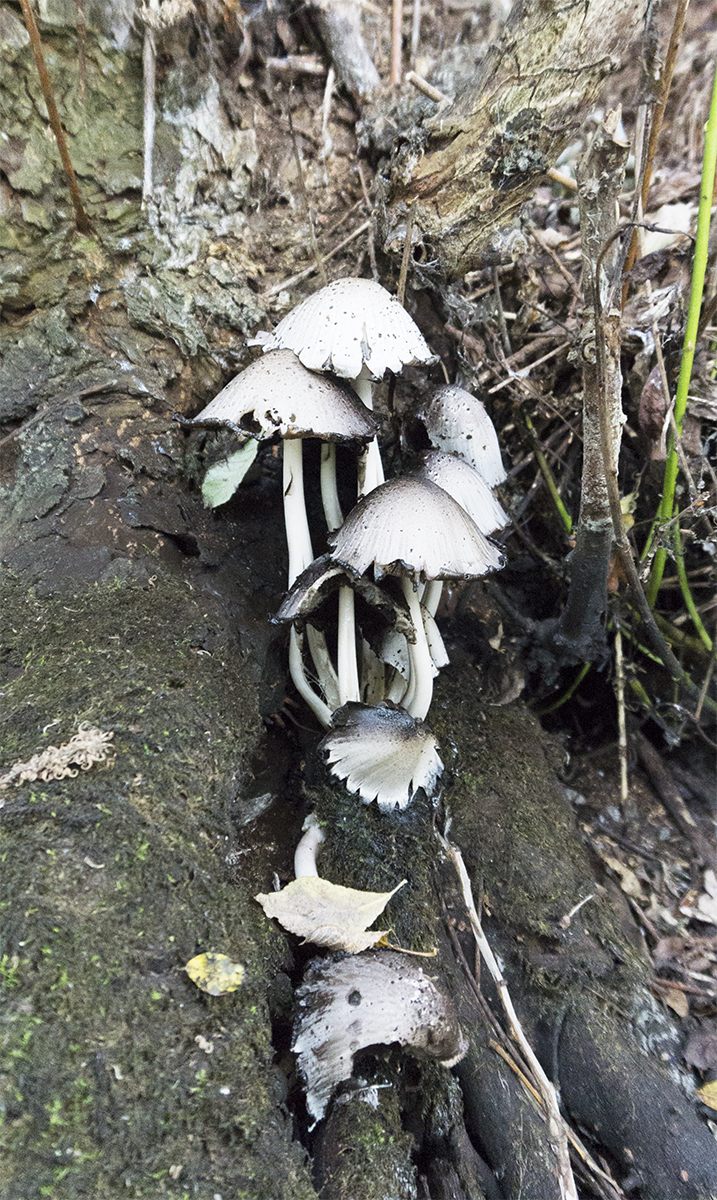 Thirty four stops later on the District Line, we arrived at Dagenham East!   Our first stop was Gunay's Café, a real greasy spoon, with "Full English" being top of the menu card.  Did we indulge? –  I leave you to decide – but after a coffee we set off on our walk.
A well-made path along the railway line was our starting point.  Armed with GPS and 'on line' A-Z, we entered Beam Valley Country Park, with the intention of walking round the lake and joining the Beam River after half a mile or so. This was not to be!  Locked gates at every turn pronounced 'Private, BDAS only'.  Barking Drug & Alcohol Service?  Brewing and Distilling Analytical Services? Well, probably not!  We mused that it is probably Barking and Dagenham Angling Society with exclusive 'people' access rights to this nature reserve.  Undeterred we continued and  eventually found a track, complete with brambles, leading to the River Beam, which, at this point, marks the border between LB Havering and LB Barking.  This image of autumn foliage is taken from Barking looking towards Havering.

Although the paths through the Beam Valley Country Park are well-maintained for cyclists as well as walkers, the park in general appears to be left to its own devices for wildlife to enjoy so in most places one has to keep to the paths.
Our next challenge was to cross the railway track to The Chase Nature Reserve and Eastbrookend Country Park.  Over the pedestrian bridge the narrow path alongside the railway line was a bit of a surprise (did we turn left or right?) but we soon came out into the large open spaces of The Chase.  Although parts of it are closed wildlife reserves, much of it is open scrubby pasture, with countryside views.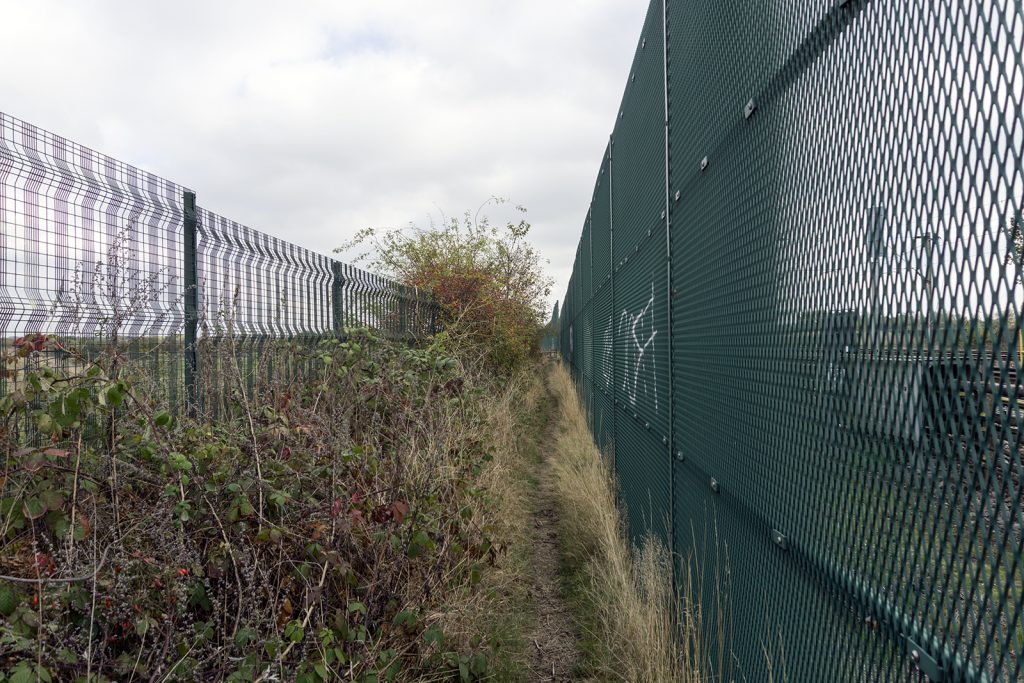 Hooks Hall Pond proved to be interesting and the sun over 'The Slack' – a lake reserved for wildlife "No Entry"! but visible from the fields – created opportunities for sparkling images.
Our meanderings through the Chase took us to a view of Hook's Hall Farm and paddocks, and to White Hart Lakes (shown here).  Formerly gravel pits, these lakes are seemingly very popular with fishermen and women, and are appealing as a place to walk – surely lovely in Spring.   A visit to the Millenium Centre  provided views to Eastbrook Grove, where dog walkers were enjoying the day.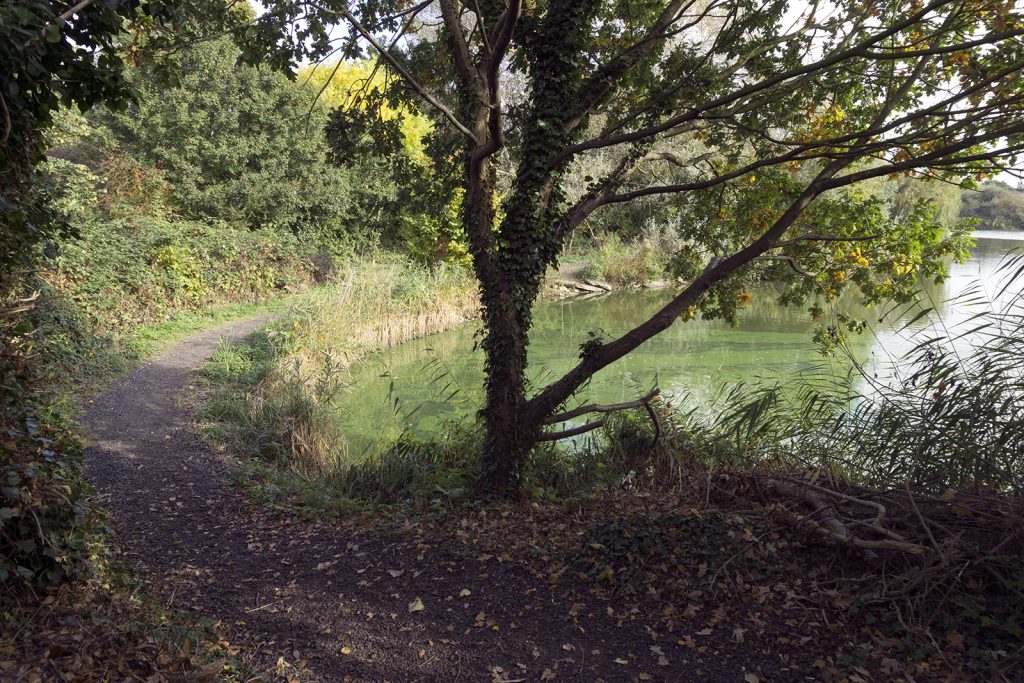 We crossed from White Hart Lakes (above) to the more northerly section of Eastbrookend Country Park, where cycle tracks and walking paths criss-cross the heathland, and Dagenham comes into view.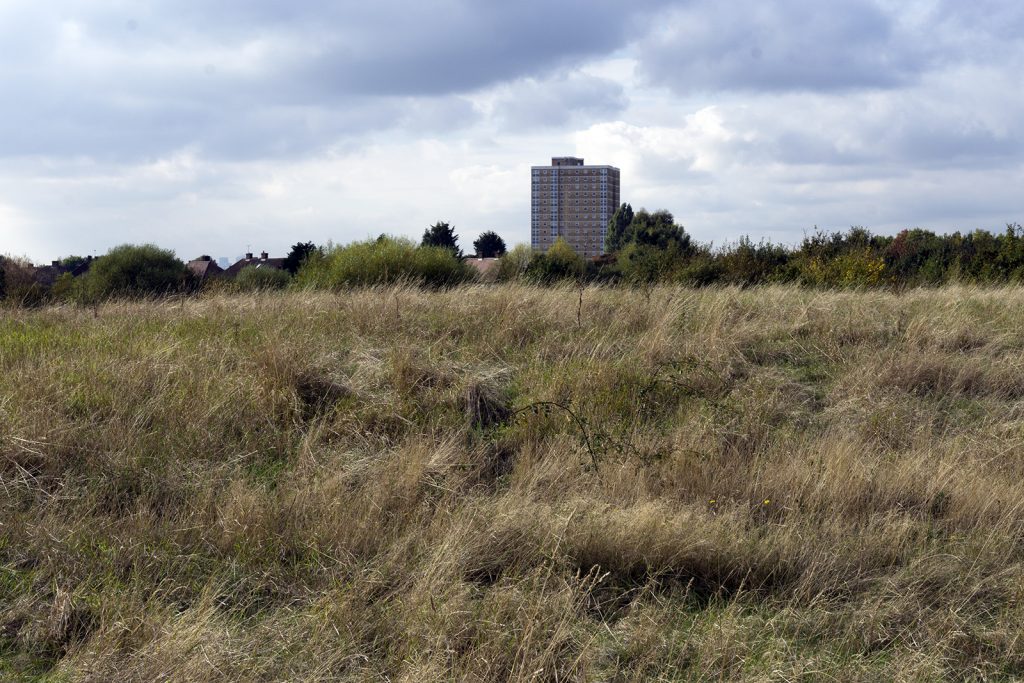 A surprise greeted us as we entered Central Park, where there are very well-kept sports pitches and open spaces and a tree-lined avenue (below).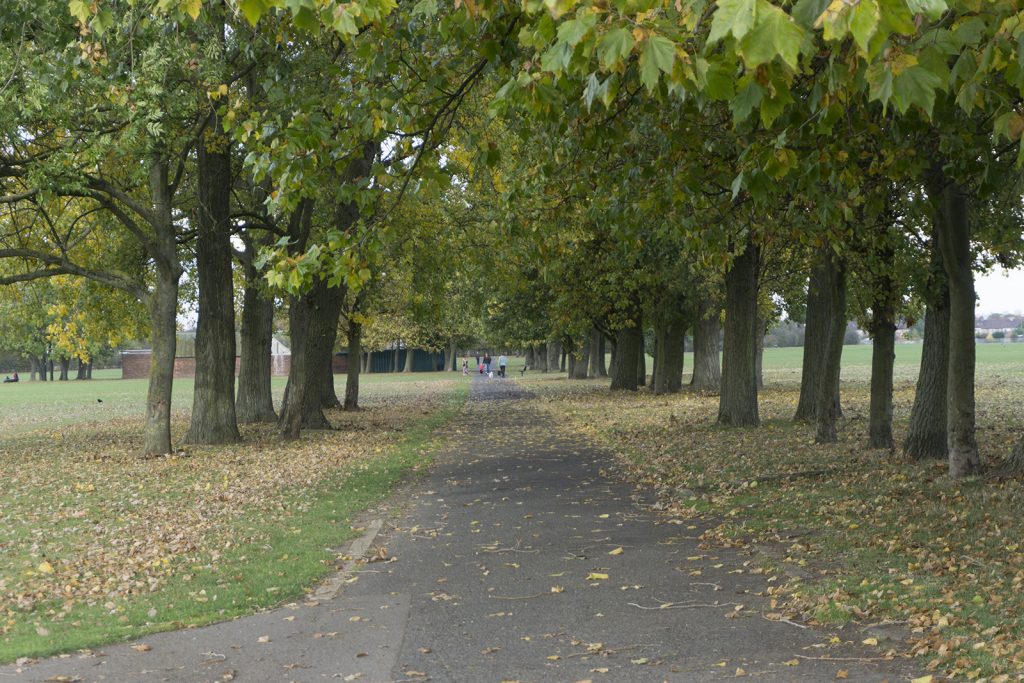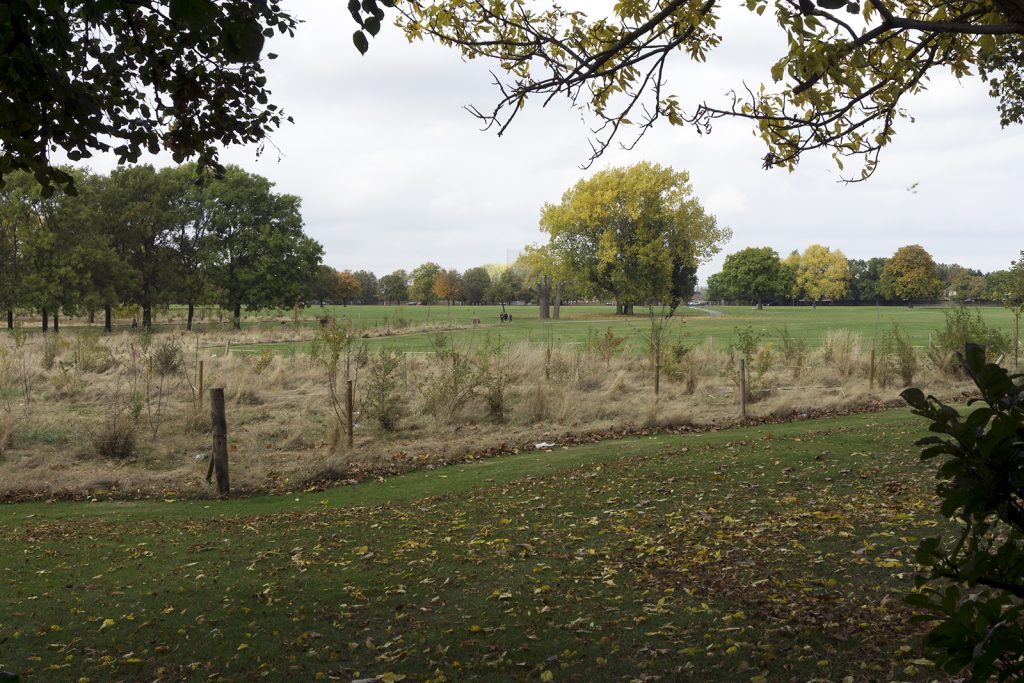 Some humour too in the Bowl's Club, where this bench is padlocked in a somewhat strange position! But the trees are displaying lovely autumn foliage.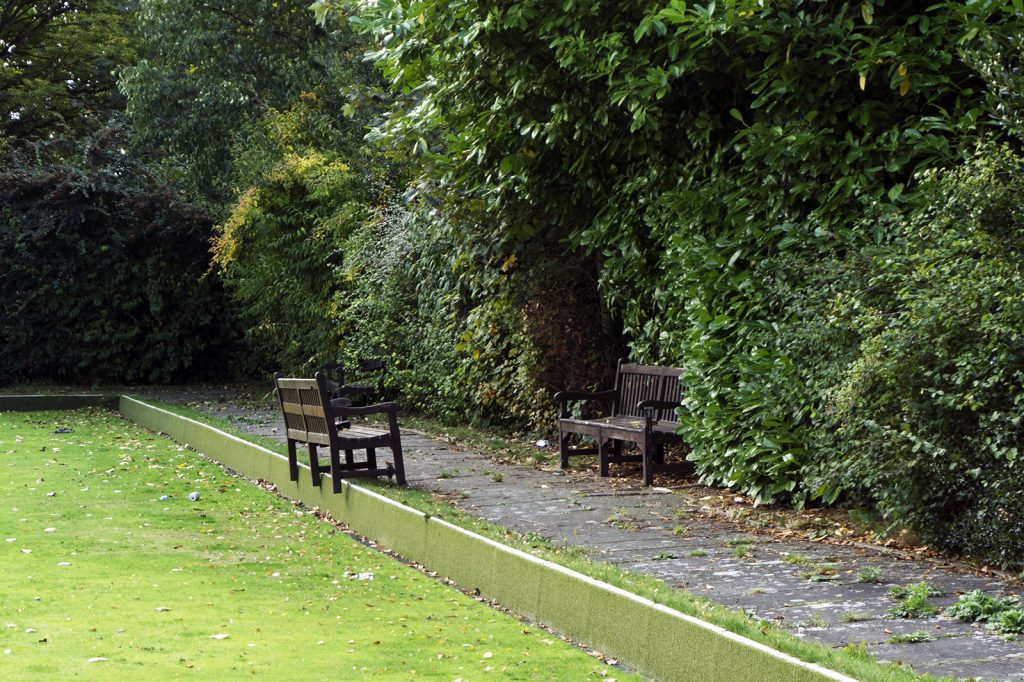 And so to the main road and the bus back to East Dagenham for the thirty four stops back!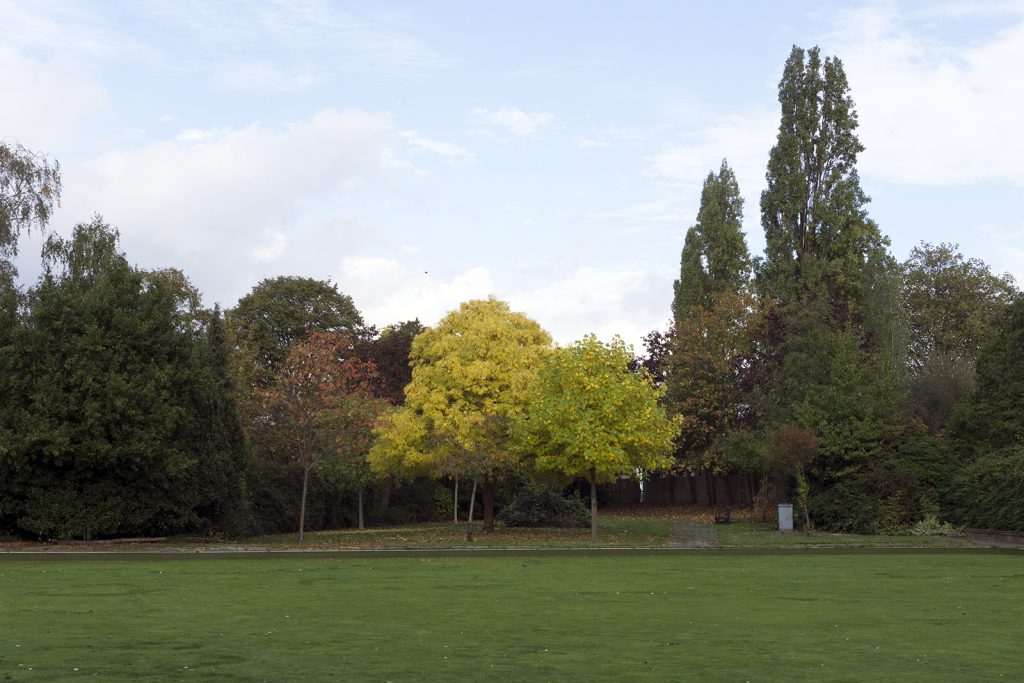 The websites tell us that Chase Valley Nature Reserve and Eastbrookend Country Park are sites of Metropolitan Importance for nature conservation as they contain some of the best examples of London's habitats, particularly rare species and important populations of species.   They are the highest priority for protection – and indeed we saw and heard quite a few birds. Presumably many of the closed areas are closed to the general public for wildlife protection. Speaking personally, to appreciate The Chase to the full, a guide knowledgeable about the local area would have been very helpful – but nonetheless it was an interesting walk.